Handmade Toys for Holiday Gifts
We have the perfect stocking stuffer for animal lovers of all ages. Each toy is handmade to perfection and made with authentic extremely soft Peruvian alpaca wool.
SHOP TOY COLLECTION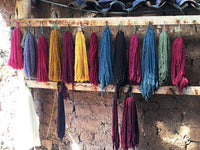 Our Story
Founded in 2008, our company is the inspiration of families working together both in the United States and in Peru. We work with local farmers in our native Peru, closely partnering with them to support sustainable practices and improve local communities. 
About Lael Alpaca
The alpaca, also known as vicugna pacos, is a species that has been a treasured part of South American culture since 5,000 years ago, when the Andean civilization began to domesticate alpacas. Now alpacas are part of a global industry. These magnificent animals that provide our highest quality textiles are well cared for and their wool is of the highest quality. The structure of the Alpaca wool fiber allows it to absorb moisture and wick it away from the skin, making it comfortable for wearing year-round. It also maintains heat in the winter, so it is an ideal, natural fiber that can be made into a variety of garments. As we have designed in unique textiles, Lael Alpaca offers sweaters, dresses, scarves, gloves, hats, ruana-styled wraps, vests, children's apparel, and more. We also offer women's tops and children's clothing in Pima cotton, the premiere Peruvian cotton which highly durable despite its satiny, cashmere-like feel. Lael is committed to customer service and satisfaction. We vow to bring our customers the best alpaca products on the market.